Michelle Romary is a Cleveland based singer, songwriter, lyricist, and recording artist. Since 2015, she has released and self published 3 solo EPs and 3 singles. The newest released EP is entitled, Grounded (2018), in her 4-part EP series. The latest single, "Love's Direction," was released on New Year's Eve 2019 with a followup single, "Rose Garden," due this fall as part of her 4th EP, "Embers." Described by Danielle Immerman, formerly of Cleveland Scene Magazine, as having "...incredible songwriting ability and amazing vocals..." her most recent EP, Grounded, blends rock with elements of western, reggae, ska, punk, and pop. She pushes the boundaries of popular music by creating powerful imagery through her introspective lyrics, blending rock and classical vocal stylings, and disregarding traditional genre rules. All 3 EPs, Floating Shift, Torrent, & Grounded, were written by Michelle, and recorded and mixed by Michael Seifert, a multi-platinum award winning music producer, writer, arranger and recording engineer based in Cleveland, Ohio at Somewhere Recording.
    
"Influenced and inspired by strong, honest female singer-songwriters like Dolly Parton, Ani DiFranco, Linda Perry and Sara Bareilles, Romary's music could be similarly  characterized as beautifully honest and sincere." - Danielle Immerman, Cleveland Scene Magazine, May 24, 2016

Her writing focuses in on her imagination, as well as her relatable stories and ideas about life, to convey meaningful messages and to spark conversations. She wraps her carefully scripted lyrics in a unique melody accompanied by music that touches your soul. She carries her passion and energy with her on stage at every performance, and surrounds herself with an excellent ensemble of talented musicians who make up her full band concerts. Her televised performances; features in regional & local magazines; airplay on national & local radio shows; podcasts; and hefty live performance schedule of over 100 live shows a year continues to contribute to her popularity throughout Ohio and beyond.

To learn more about Michelle, visit her Bio page and view her Schedule to see a full list of upcoming performances.
"

Her voice and her lyrics have the ability to say it, rather sing it, like it is. There's no bullshit behind anything. Her lyrics are inspired by her everyday life, making them relatable to every listener, and her vocals are pure and untampered. In a day when pretty much every song that makes it onto the radio has been manipulated ten-times over, it's refreshing to hear music that sounds as good live as it does recorded. Romary is the real deal..."
"

...a versatile songwriter and performer who draws on a wide range of styles to capture her personal thoughts and feelings."
recent press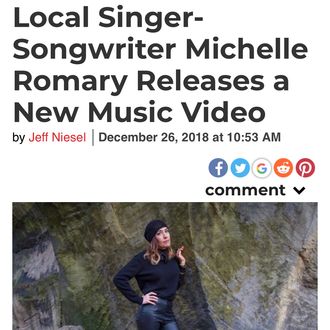 featured music video "home"
by jeff niesel of cleveland scene magazine
http://smarturl.it/ClevelandSceneHOME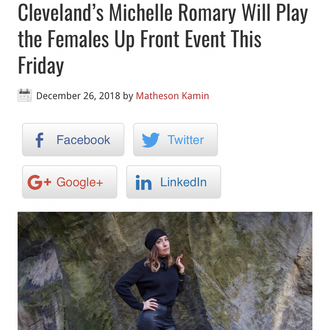 Grounded EP Review & Concert News
by matheson kamin of Rust Belt Chronicles
https://therustbeltchronicles.com/clevelands-michelle-romary-will-play-the-females-up-front-event-this-friday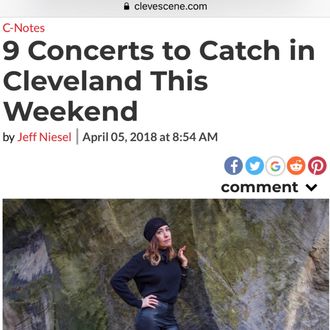 Concert news & breif Ep review
by jeff niesel of Cleveland scene magazine
https://m.clevescene.com/scene-and-heard/archives/2018/04/05/9-concerts-to-catch-in-cleveland-this-weekend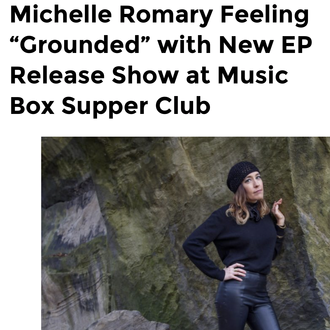 interview with cool cleveland
by cool cleveland
https://coolcleveland.com/2018/03/125954/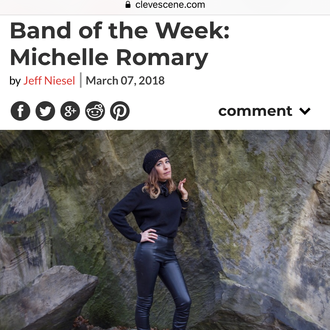 Cleveland Scene's Band of the Week
by jeff niesel of Cleveland scene magazine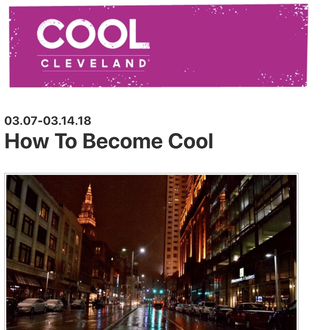 Cool Cleveland's featured music
by thomas mulready of cool cleveland
https://coolcleveland.com/2018/03/03-07-03-14-2018-become-cool/