On May 24, 2016 Danielle Immerman, of Cleveland Scene Magazine, published a wonderful article and review about me and my new EP, Torrent.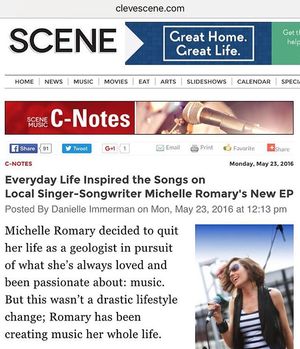 Here's an excerpt:
"With each song creating a narrative about life, it's easy to see why Romary is one of the most popular soloists and Cantors in the area. Her voice and her lyrics have the ability to say it, rather sing it, like it is. There's no bullshit behind anything. Her lyrics are inspired by her everyday life, making them relatable to every listener, and her vocals are pure and untampered. In a day when pretty much every song that makes it onto the radio has been manipulated ten-times over, it's refreshing to hear music that sounds as good live as it does recorded. Romary is the real deal, so be sure to listen to Torrent; after all, who doesn't love stumbling upon new music, especially when it comes from one of Cleveland's finest."
I could not have hoped for better! I'm thrilled that my EP is garnering so much praise.
If you have yet to order your copy or listen to the album, here are some links: 
michelleromary.com/music 
www.itunes.com/michelleromary 
Spotify: http://smarturl.it/RomaryTorrent 
Amazon: http://smarturl.it/RomaryTorrentAmazon 
Google Play: http://smarturl.it/TorrentGooglePlay
Thank you to everyone who has been leaving reviews on iTunes, etc. What a nice surprise!!!!
Read the full review from Cleveland Scene Magazine here: