Michelle Romary Music - 2013-Today
Michelle created Michelle Romary Music as an umbrella company for her multiple projects in 2013. What began as a simple trio of musicians has expanded to include a band and Michelle's solo albums as well. Michelle released 3 new EPs in 2015, 2016, and 2018. Described by Cleveland Scene Magazine as having "...incredible songwriting ability and amazing vocals..." her recent EP, Torrent, was released in May 2016 following her solo debut pop/rock EP, "Floating Shift," released on October 16, 2015. Both EPs were written by Michelle, and arranged, recorded, mixed, produced, and mastered by Michael Seifert, a multi-platinum award winning music producer, writer, arranger and recording engineer based in Cleveland, Ohio. Follow along with behind-the-scenes photos and videos HERE ON THE BLOG.

Her debut EP, "Floating Shift," of original pop/rock songs, arranged by Michael Seifert, was released on October 16, 2015. In preparation for the release, she was interviewed for a feature article, "Sweet Sounds," in the 2015 Fall Publication of Lorain County's, Pulse Magazine, detailing her new album and her career in music. This album is currently in rotation on the NEORocks show, college radio station 88.7 FM, WJCU.org. On Nov. 2, 2015, she debuted the official music video, directed, filmed, and edited by Sector8 Films for "Stories In My Mind," which was the 1st song released off of "Floating Shift." In April 2016 she released the official video for, "New Day," again directed, filmed, and edited by Sector8 Films, starring Katelynn Newberry and Donny DiFranco of Unite This City.

Her follow-up EP, "Torrent," her 2nd EP in the series of 4, was released in May 2016 to a stellar review by Cleveland Scene Magazine. This new EP was once again arranged, recorded, mixed, produced, and mastered by Michael Seifert. Songs from this album are in rotation on he NEORocks show, college radio station 88.7 FM, WJCU.org, and Lakeland Community College's Lake Effect Radio Station.


TOURING & LOCAL PERFORMANCES
---
Michelle travels throughout Ohio and Michigan entertaining crowds, and is able to provide two options for venues or event planners based on budget and preferences.

The Michelle Romary Trio is a unique Cleveland group featuring Michelle, vocals and melodica, Efraín Hernández, vocals, cajon and percussion, and Jimmi Chance, vocals and acoustic guitar. The Trio frequently performs at yacht clubs, marinas, and private resorts in the Port Clinton and Cleveland areas. This small set-up is perfect for smaller venues and stages or intimate private settings. The Trio plays all of Michelle's original songs in addition to unique covers of popular songs from the 50s - today in a relaxed atmosphere, but can crank up the energy for dancing at a moment's notice. Visit the TRIO page for more information.

The Michelle Romary Band offers a full production, high energy performance of your favorite rock & dance tunes. The Band is a busy and dynamic Northeast Ohio group serving clubs and private events. The song catalog is extensive and includes Michelle's original songs in addition to decades of Top 40 Hits from all genres including Pop, Rock, Jazz, Standards, Motown, Country, Blues, and everything in between. The Michelle Romary Band receives compliments after every performance on the range and quality of Michelle's vocals, the professionalism, talent, and skill of the musicians, and the atypical song selection. View the schedule to see the venues that repeatedly rehire Michelle Romary Band. As full-time, professional musicians, they bring something new to every performance! Visit the BAND page for more information.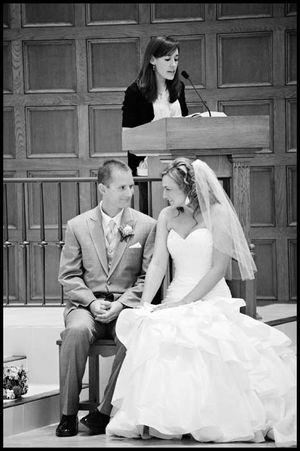 Michelle's classical training began in 1993 and she continues to study pieces privately, as needed, with Dr. Joanne Uniatowski. Her singing repertoire is extremely diverse and ranges from Italian Arias to Rock. She loves to perform in a wide array of venues and sing many genres of music. She is hired as a soloist and Cantor for more than 100 ceremonies/masses a year, and is a studio vocalist for commercial work.

Michelle's extensive training and experience has enabled her to become one of Cleveland's most highly sought after wedding and funeral ceremony soloists.  She sets herself apart from other soloists by singing both traditional and contemporary pieces with conviction and ease. Clients gravitate towards Michelle's voice and compliment her on being "a real singer that can sing a variety of ways" and "a singer that doesn't sound like a typical church singer." Having over 15 years of experience, she is very knowledgeable of ceremony proceedings and adept at selecting appropriate and compelling music.  She is personable and enjoys working with families to plan the perfect music selections to enhance the ceremony.  Her goal is to deliver beautiful singing while relieving a little of the stress that is sometimes associated with ceremony planning.

In 2014, working again with Michael Seifert, she released her faith based album, "Songs of Comfort & Devotion," which features Michelle's favorite and most requested Catholic and Christian songs from her repertoire, including Christmas songs, as well the first single she wrote as a solo artist, "My Vow," arranged by Michael Seifert. These songs have been consistently featured on The Catholic Playlist Show, and "My Vow" has been played on the NEORocks show, college radio station 88.7 FM, WJCU.org. Michelle also performed "My Vow" in 2015 on Cleveland's Fox 8 News In the Morning. The official music video of "My Vow," directed and filmed by Sector 8 Films, was released in October 2014. In addition, on Christmas Eve of 2014, Michelle released a music video for the Christmas medley she arranged off of that album featuring "Song of the Stable" and "Night of Silence."

Please click the links to view Videos and Compliments.
Pout - 2010-2014
Michelle was the lead singer and a songwriter in Pout! Led by songwriters Teddy Wallingford (bass, acoustic guitar, vocals) and Michelle Romary (vocals) and accompanied by world-class drummer, Efrain Hernandez! Pout released their first original record 'For Real' in Feb. 2012 - published by "Dragonmuffin Music" - a music publishing company co-owned by Michelle and her partner, Teddy Wallingford. While Pout was in the studio, they were featured in an article on the cover of the Arts Section in The Plain Dealer - photo by Lynn Ischay, The Plain Dealer!  Read the article "So You Wanna Make a Record," written by Chuck Yarborough and watch a video by clicking on the following link:  http://www.cleveland.com/music/index.ssf/2011/11/so_you_wanna_make_a_record_cle.html.

Pout released their second album, a full-length L.P. produced by multi-platinum producer Michael Seifert (Regina Spektor, Gentleman Hall, Bone Thugs 'n Harmony) in July 2013. Pout's songs "Wake Up" and "Genius" received radio play here in Cleveland, Ohio. Pout performed at Art City at the world famous Agora Theater as well as music festivals in Columbus and Cleveland and clubs and venues throughout Ohio & Michigan.

Listen to Pout's catalog of songs on Spotify or on iTunes.
Tidbits
In addition, Michelle was a featured soloist in a Concert Series at Playhouse Square, Tower City Center, and "the FEST" with the singers of "Raine Austen & Resounding Joy!", singing lead vocals in the pop/rock bands "the Knock-offs," "Satellites Down," and "Licorice," and singing in radio commercial jingles throughout Ohio. In addition, Michelle has performed as a featured soloist with various international Christian and Catholic Recording Artists and is also a seasoned theater performer.  While obtaining her Bachelor of Science Degree in Geological Sciences at Ohio University, Athens, Ohio, she was chosen to perform with the O.U. School of Music's Opera Theater program in Mozart's opera, "The Magic Flute."  She has performed in Professional Show Choirs and in many Musical Theater productions.  Her most recent Musical Theater performances include performing as a featured soloist in "Joseph and the Amazing Technicolor Dreamcoat" at Huntington Playhouse in Avon Lake, Ohio and performing in various cabaret events showcasing Broadway songs.

In the midst of a very busy and fulfilling career, Michelle is also a mother of three kiddos and a wife to a very patient husband.  She continues to volunteer as a Cantor, soloist, and choir member at St. Christopher Catholic Church in Rocky River, Ohio, where she is the funeral and memorial mass Cantor.
Brothers Blues Band - 2007-2013
Michelle performed as a vocalist and dancer in The Brothers Blues Band - a tribute band on a mission to keep the blues alive! This 17-piece band was a compilation of some of the hottest musicians and vocalists in Cleveland featuring Fox 8 News personality, Todd Meany. The BBB performed a high-energy recreation of "the Blues Brothers" concerts!